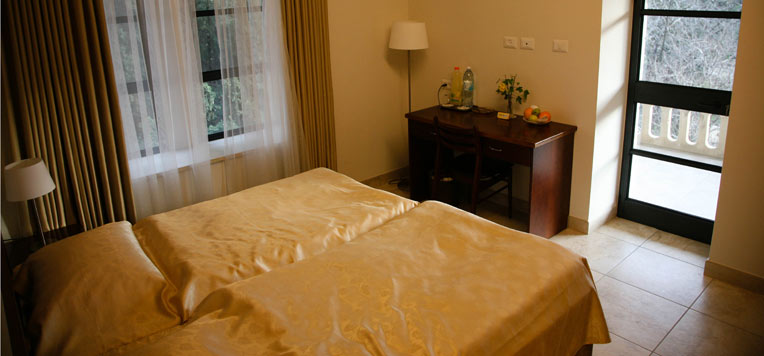 Our guestrooms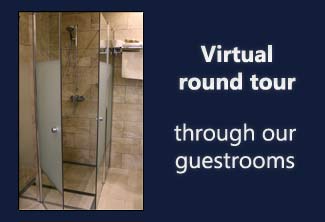 In our guesthouse St. Charles Hospice we can offer our guests single and double rooms. The guestrooms were totally modernized between 2013 and 2017. During this renovation, we tried to preserve the European-oriental character of our house (e.g. high ceilings, historical tiles, round windows, doors and stone frames). Our rooms are of generous size. In addition, every room has its own bath with WC, an easily accessible walk-in shower and a hairdryer. Some sites even possess their own balcony where you can rest and enjoy the bird's view of our monastery garden. The guesthouse is also equipped with high speed internet access (WIFI), the usage of which is free of charge for our guests. The parking lot inside our area is also free of charge for our guests.
Please mind that you reservation will only be valid after receiving a confirmation. The mere sending of a reservation request (without any confirmation) will not be sufficient.

These are the rates per person and night:
Double roomBed and breakfast
Double roomHalf board
Single roomBed and breakfast
Single roomHalf board
Individuals (up to 14 persons)
Group (at least 15 persons)
In case of a very early arrival on your day of arrival (before 2.00 p.m.) and in case of a very late departure (check out from the room after 11 a.m.) we add an extra charge of 10.00 € per person.
If you stay only 1 night in our guesthouse we add an extra charge of 5.00 € per person.




Discounts:
Groups: For groups of at least 15 persons the rates will be reduced as written above. In addition, we bear the costs for the 21st person in a double room in total.
Children: If children are accommodated in one room with their parents, the room rate for infants (0-3 years) will be 20.00 € per night. For children in the age between 4 and 11 years, we will charge only 50% of the regular room rate.
Bus driver & tour guide: The bus driver and tour guide of local agencies get discount: We will charge 50% of the regular room rate, if their group is accommodated in our guesthouse.
Additional services:
Additional meal: For an additional meal (breakfast, lunch or dinner) we charge 15.00 € per person.
Charge for keeping your room during absence: When you are outside for one or more nights we charge 5.00 € per day and person.
Further important information:
Payment: Payment is only possible in cash (€, US$, or NIS). We will reserve the right to increase the room rates, if there is high price fluctuation for currency exchange (in €/NIS or US$/NIS).
Group booking: In order to keep your booking safe, we have to know the final number of rooms and require a list of the group members and the room distribution at least one month in advance.
Cancellation of group bookings: In case of cancellation less than two months before your date of arrival, we charge the total costs of the group's first overnight stay in accordance with its booking.
Cancellation of (single) guest bookings: In case of cancellation less than one month before your date of arrival, we charge 30% of the total costs of your booking.
German Hospice St. Charles Jerusalem - Lloyd George Street 12, 91080 Jerusalem, Israel - Tel. 00972 2 5637737 - info@german-hospice.de