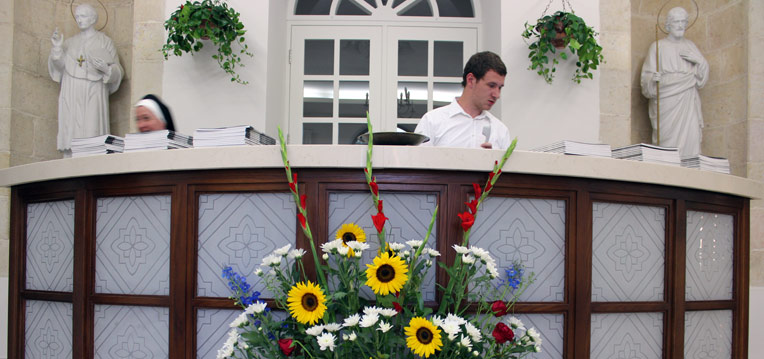 Our guesthouse
The main building of the German Hospice accomodates the guestrooms, the sisters' enclosure, the volunteers' rooms, the monastery chapel, the dining room, and lots of comfortable recreation rooms. In addition, you can find the so-called Red Diwan, a traditional oriental saloon, as well as snug lounges, whose armchairs invite you to stay and rest for a while.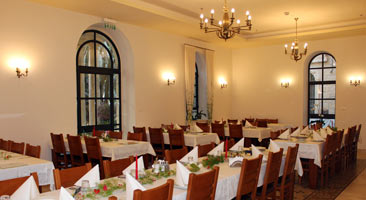 The dining room is located on the ground floor. Its large windows offer a wonderul view on our garden. In the dining room, you can enjoy a comprehensive buffet breakfast, warm lunch and supper. All meals are cooked by the sisters, who combine the German with the local, oriental cuisine.
The reception desk is daily open from 8.00 am until 8.30 pm. In the lobby you can buy drinks, e.g. water, juice, and alcoholics, as well as postcards of Jerusalem and Israel. In addition, there is an information board with a city map. An elevator to the floors with guestrooms is nearby.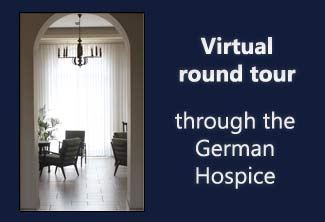 Alltogether, our convent offers round about 80 beds for the guests. There are
single and double rooms
, which are characterised by their high ceilings of over three meters (ten foot). Every room has its own bath with WC and shower. Some sites even possess access to their own balconies. The guesthouse is equipped with WIFI, too. Its use is free of charge.
For the last months, our guesthouse has been renovated. Therefore, you can stay in a recently modernized guestroom.
Just send us an email or use our
contact form
to get more information about our guesthouse. Maybe it is also interesting to visit our
photo gallery
. And, of course the best: Feel free to come by!
We are really looking forward to welcoming you in St. Charles!
German Hospice St. Charles Jerusalem - Lloyd George Street 12, 91080 Jerusalem, Israel - Tel. 00972 2 5637737 - info@german-hospice.de