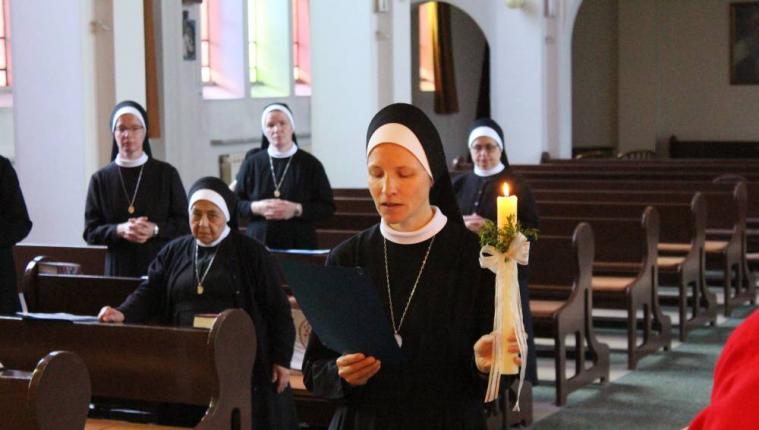 In the Service of Mercy
- 2020/04/25 -
In the frame of the familiar faces of our St. Charles community we came together for a festive service in the evening of Saturday, April 25 to celebrate the prolongation of the religious vows of our Sister M. Gabriela for another year.
Benedictine Father Matthias Karl from the Dormition Abbey, whose Bavarian homeland, the bishopric of Ratisbon, is the same as Sister M. Gabriela's, preached as a brother for his sisters. His topic was the frequent unusual call coming from God and addressed to each of us, one's departure into a new life in the community of a religious order with its light-flooded sides, but also with many a lonely hour in which, however, one feels even more supported by God's presence.
Our fellow sister had asked for a special selection of songs for this service, and the bell-like singing of the choir of our community filled our chapel of St. Charles:
We wish our dear fellow sister
joy, persistence, and the support of the Holy Spirit
on her way in Christ's succession
in our community of St. Charles Borromeo.
German Hospice St. Charles Jerusalem - Lloyd George Street 12, 91080 Jerusalem, Israel - Tel. 00972 2 5637737 - info@german-hospice.de