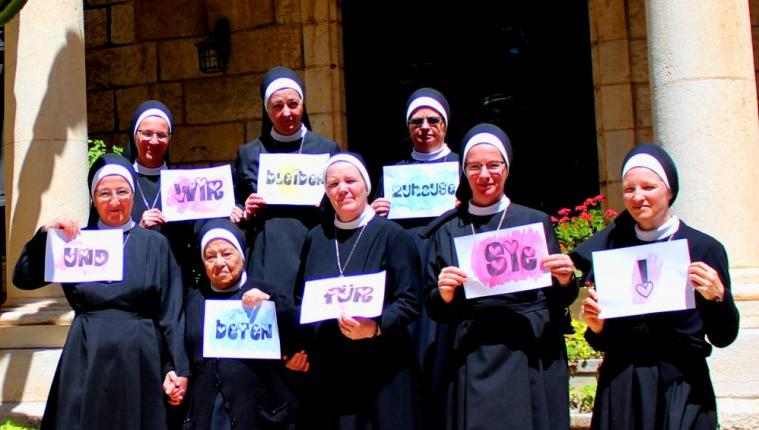 A message for YOU!
- 2020/03/29 -
To be permitted quite suddenly from one day to the next to leave one's home only for going shopping when it seems absolutely necessary, this is not easy at all for an individual, a couple, a family, or for a religious congregation.
How is it possible to stay in good spirits in these difficult times and in the face of all the very sad news arriving from one's personal surroundings or from all over the world, how can we go on trusting in God's help and not losing hope? The Holy Scripture supports us for our daily life and our living together especially in such very critical situations by the following wonderful piece of advice:
If I speak in human and angelic tongues
but do not have love,
I am a resounding gong or a clashing cymbal.A)" data-cr="#cen-NABRE-32986A">
And if I have the gift of prophecy
and comprehend all mysteries and all knowledge;
if I have all faith so as to move mountains
but do not have love, I am nothing.
If I give away everything I own,
and if I hand my body over so that I may boast but do not have love,
I gain nothing.
Love is patient, love is kind.
It is not jealous, [love] is not pompous,
it is not inflated, it is not rude,
it does not seek its own interests,
it is not quick-tempered,
it does not brood over injury,
it does not rejoice over wrongdoing but rejoices with the truth.
It bears all things, believes all things, hopes all things, endures all things.
LOVE NEVER FAILS.


(1 Cor 13:1-8)
German Hospice St. Charles Jerusalem - Lloyd George Street 12, 91080 Jerusalem, Israel - Tel. 00972 2 5637737 - info@german-hospice.de