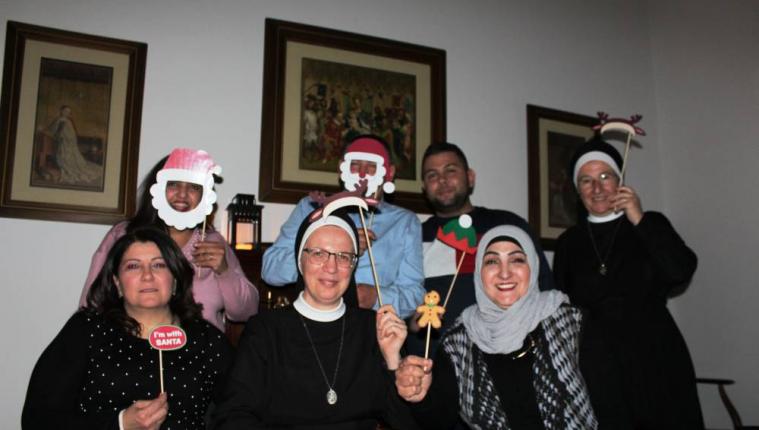 Christmas Party with for our team
- 2019/12/27 -
Although it goes back for only a very short time in St. Charles, our Christmas Party with all Borromean sisters and all the employees of our house is going to become the favourite event for all of us and a very popular tradition.

This special Christmas Eve started with a delicious meal with Arabic an European food - and our sisters in the kitchen had really given their very best to surprise us with this dinner. Afterwards the beautifully decorated Christmas tree in the salon was waiting for our community, and there was a present hidden for each of us below the branches of the tree.

We all enjoyed the typical German culinary traditions of advent: hot red wine or hot applejuice with cinnamon, home-made cookies and ginger bread, and we were singing songs together in Arabic, Englisch, Romanian and German. And of course, we all got dressed up for Christmas with small items from our kindergarden.
We all wish - as Ms. Samar, one of our employees said - to meet again at this occasion alltogether next year so that we can enjoy this Eve again. In sha'allah.

We wish our employees
MERRY and BLESSED CHRISTMAS
and say THANK YOU for your commitment during the year.
German Hospice St. Charles Jerusalem - Lloyd George Street 12, 91080 Jerusalem, Israel - Tel. 00972 2 5637737 - info@german-hospice.de