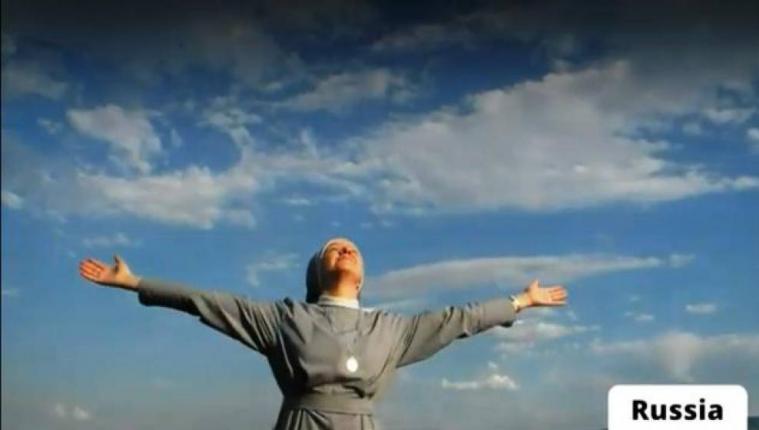 We proudly present - The Singing Sisters
- 2020/05/31 -
Everything began some weeks ago with an e-mail that reached us from far-away Siberia. It is there - seen from Israel at the other end of the world - that live two Borromean Sisters whom we became acquainted with some time ago, Sister Wiera and Sister Letycja, who are members of the Congregation of the Sisters of Charity of St. Charles Borromeo and their mother convent in Trebnitz (Poland). They are in charge of the catholic parish in the Russian city of Kranojarsk. One evening last year, they rang the bell at St. Charles because they were on a pilgrimage in the Holy Land and they wanted to surprise us by their visit - and this proved to be absolutely successful!
At the beginning of May 2020, right in the middle of the world-wide Corona crisis, they sent us an e-mail with a very special request: "We would be very happy if you could join us in our Borromean musical project for Pentecost. The only thing you would have to do is to practise in your mother language the song which you find enclosed, to make a video of it performed as a song or played by any instrument, and to send it to us."
It took no time at all for us Sisters of St. Charles to agree and to confirm our participation: a song with so many Borromean Sisters - that was exactly our cup of tea! And although our guest house was completely empty at that time, there were lots of activities going on here for some days because we practised the song any time and wherever it was possible for us, either individually or using our mobiles or our small headphones. Herr Erwin Meyer, our experienced choir director, was responsible for giving it the last touch. Together with our technically enthusiastic Father Cristian Vacaru he transformed one of our guest rooms into a kind of professional recording studio, equipped with the best available audio and video material, and even with an adequate and changing visual background: fantastic!
It took us a whole day to finish the recording - and then we sent the result to our fellow sisters in Siberia who were in charge of finalizing the project.
And of course we were pretty curious to know who else might have accepted the invitation from Siberia. And just in time for Pentecost our common musical video was finished, and now it can be seen and listened to in different languages and with Borromean Sisters from different countries and continents.
58 sisters from the congregations in Nancy, Grafschaft, Mikolov, Trebnitz, Prague and Vienna have taken part in this common singing.
They represent 10 different countries - Mexico, France, Italy Austria, Poland, Russia, Israel, Egypt, Zambia, and Senegal, and they all sing one song in so many different languages:
We wish you

a wonderful Pentecost

with the spiritual blessings of this day.
May the Holy Spirit penetrate your lives,

and may all your decisions be made with the help of God's wisdom!
German Hospice St. Charles Jerusalem - Lloyd George Street 12, 91080 Jerusalem, Israel - Tel. 00972 2 5637737 - info@german-hospice.de