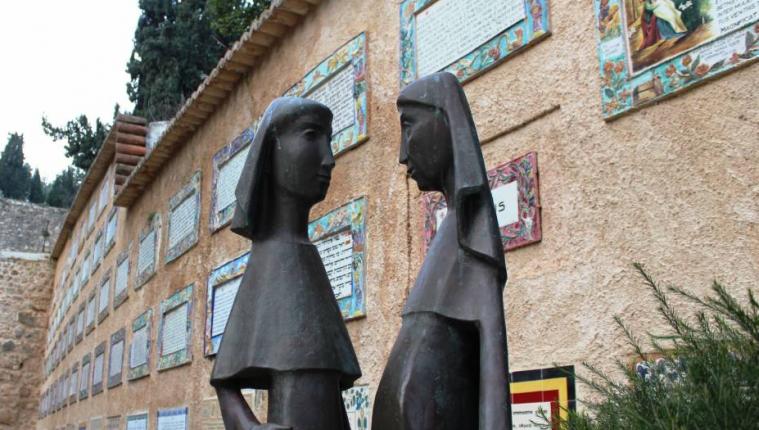 MAGNIFICAT - To be expecting
- 2020/02/06 -
"Expecting" - this is the name of a herbal tea for pregnant mothers. Do you think that you may find it in one of the coffee houses or the small shops of the popular pleasure resort Ein Karem in the surroundings of Jerusalem? The place would be worth a visit anyway and your trying to find it there. The name of this herbal tea fits wonderfully to this picturesque village, surrounded by green hills and situated in the valley between the Hadassah Hospital and the Yad Vashem Memorial near Mount Herzl.
In the midst of January our St. Charles community set off to remember the very special hope arising from the visitation at this memorable place. It is there that two women have
met without whom the history of the world would have taken a different turn.
Ein Kerem (Hebrew: Source of the vineyard) was the place where Elizabeth lived with her husband Zacharias. Her cousin Mary came to visit her, as we learn in the Gospel of St. Luke (1, 39-56). The two women were "joyfully expectant", they were pregnant. And both of them had every good reason for hope and joy:
After having lived childless with her husband Zacharias for many years, after this very long time of hoping and praying, Elizabeth (Hebrew: God means fulfillment) finally was pregnant. She was to give birth to St. John, who later as a preacher would announce in mighty words the arrival of Jesus. And Ein Kerem is also known as the birthplace of John the Baptist. There are several plaques near his church showing the "Benedictus", by which his father Zacharias praises God for his great deeds performed for Israel (Luke, 68-79).
A second church, beautifully situated on one of the hill slopes of Ein Karem, is dedicated to Mary's visit to Elizabeth. A special meaning is attributed to this place by the words Mary began to sing when greeting Elizabeth: "My soul proclaims the greatness of the Lord; my spirit rejoices in God my saviour ..."
(Luke 1:46-55). This "
Magnificat
" bears witness to the hope and joy coming from God:
He has shown might with his arm,
dispersed the arrogant of mind and heart.
He has thrown down the rulers from their thrones
but lifted up the lowly.
The hungry he has filled with good things;
the rich he has sent away empty.
How encouraging and how wonderfully strong these words are!
And whenever we sing the Magnificat today, together with Mary and the Church as a whole we can feel inspired by this tremendous hope given to us by Jesus Christ.
German Hospice St. Charles Jerusalem - Lloyd George Street 12, 91080 Jerusalem, Israel - Tel. 00972 2 5637737 - info@german-hospice.de