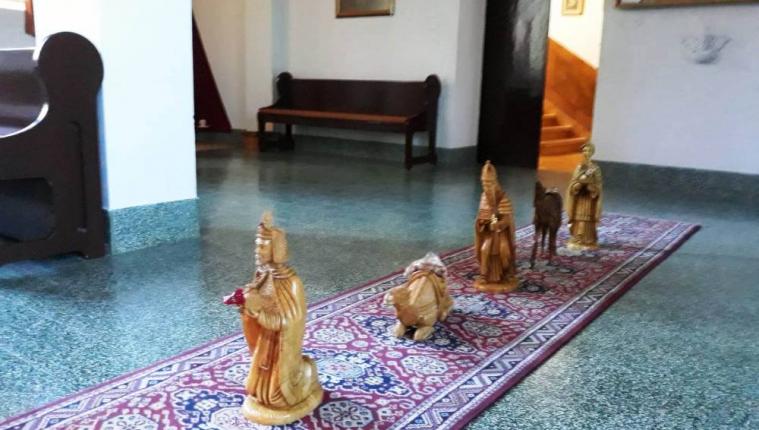 The Royals are coming!
- 2020/01/06 -
On their way following Bethlehem Road
One side of our German Hospice St. Charles is close to Bethlehem Road (Derech Bethlehem). So the way for the three kings on their trip to Bethlehem and back is very easy to imagine and many tourist guides recommend a stop to taste the famous cuisine of St. Charles. So it might seem obvious that the three kings stopped at a place like ours. And of course St. Charles is open to all kinds of pilgrims.

Since the beginning of the New Year, especially in the early morning, our sisters have recognized strange shapes on the floor in front of their doors. Night by night a small caravan moved along the floor of the sisters´ part of the convent, following a small shiny star. In the last few days the caravan climbed the staircase and - miraculously - entered our chapel Regina Angelorum, and crossed the long carpet straight to the small infant Jesus in front of the altar. There they laid down their presents brought along their long journey: gold, frankincense and myrrh, but also marzipan, pearls and a wooden heart could be seen: special oriental gifts for Jesus from a very special group of pilgrims in our house.

On January 6th, at the same time when the caravan was seen in our chapel, some other Royals visited our house. While the three kings were praying in the chapel, three men in black replaced them in our dining room. The sisters had invited them for lunch. And the three kings were recognized as VIPs when eating the starter, one of our delicious bread rolls, because three of those contained a small (symbolic) piece of gold, frankincense and myrrh. Like this, the three kings were identified and gave a present to everybody after lunch.

Halleluja!

Christ is born
- and the three kings visited St. Charles.
It must be Christmas time!

German Hospice St. Charles Jerusalem - Lloyd George Street 12, 91080 Jerusalem, Israel - Tel. 00972 2 5637737 - info@german-hospice.de